Get the inside scoop on what a day in the life is like for members of our OR team!
Being the only Level 1 Trauma Center in New Mexico, the OR team at UNMH is equipped to handle any situation. Whether it's an emergency surgery or an elective procedure, we're prepared to provide the best possible care for you or your loved ones.
UNMH is the only teaching hospital in New Mexico. We partner with the UNM School of Nursing, CNM and the UNM School of Medicine to train future doctors and nurses. Within our four units – Main OR, Pediatrics OR, Day Surgery and Labor & Delivery – our surgical teams are able to provide care in a wide variety of settings, from plastics to cardiovascular.
Our team is comprised of many different roles that all play a vital role in ensuring that we provide the best possible care for our patients. Meet some of our team!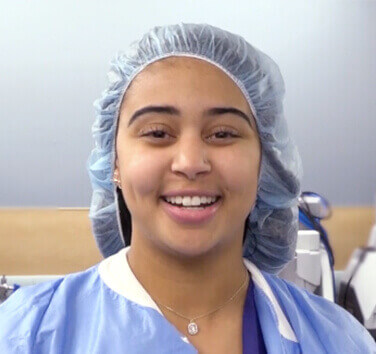 "As an Anesthesia Tech, you basically function as the provider's other set of hands. You make sure all the equipment is ready to go and all the machines are running, as well as prep IV sites."
Think the OR might be the place for you? There are many different opportunities with us on our OR team. Click here to browse open positions.