Employee Spotlight
Loretta, Psych RN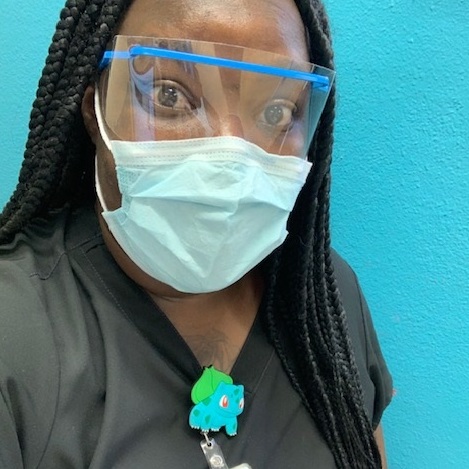 The Children's Psychiatric Center (CPC) at UNM Hospital is the only facility of its kind in the state. Our 35-bed offsite facility is equipped with the tools needed for patients and their families to receive inpatient or residential treatment or attend partial hospitalization day programs.
Our pediatric psych team consists of providers, nurses, and support staff who all share a common goal; to make a positive impact on children and their families.
Meet Loretta, who has been a Psych RN here at UNMH for three years. Loretta shares her experiences working at the CPC and tips for RNs who are looking to work in a psych setting.
Why did you choose to become a Psych RN over other areas of nursing?
Psych has always been an interest to me. When I went into nursing school, I knew I wanted to do psychiatric nursing. I feel it takes a different kind of compassion to work with psychiatric patients, especially children.
What surprised you the most about working in the Child Psychiatric Center?
I never thought I would want to work with kids, but when I got here and realized how well I engaged with the patients and the influence that all of our staff had on them - I knew this was where I was meant to be. You can be a positive influence in a child's life without even realizing it. Some of the kids come from backgrounds where they are never around an appropriate role model, and you get the privilege of being just that for them!
How would you describe the culture on the team?
Here at CPC teamwork is very important. We depend on one another, and there is always someone willing to help out. Our staff love to educate others that may be new to the team or unfamiliar with the process.
What is an average day like?
Our techs work 8-hour shifts, and our nurses work 12-hour shifts. I usually get the report on how the campus has been overnight and then prepare for the dayshift to arrive. I round on the four cottages, as well as determine bed placements for any incoming patients. Our nurses and techs work very closely together in providing the best care for our patients and I just try to help them as much as I can!
How has COVID-19 affected your work?
It's been an adjustment. Change is usually hard on people, especially those who live with mental health issues. A positive thing though is that it's given us the opportunity to look at certain ways we practice and recognize new and better ways to deal with situations or processes!
What's the biggest piece of advice you would give a potential candidate looking to become a Psych RN in the CPC?
I would say give yourself a chance! Sometimes people doubt their capabilities to care for children in these circumstances but seeing the smile on a child's face when they leave makes all the difference and then you'll know that you had something to do with making a child's life better.
Considering a career in a psychiatric setting? Don't wait to make a difference – explore behavioral and mental health roles at UNMH!