Lifeguard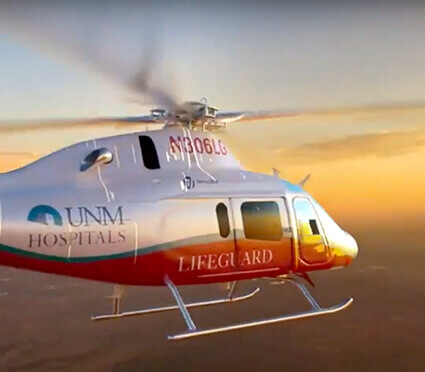 Lifeguard is the University of New Mexico Hospital's Medical Transport Program. We provide medical care for patients being transported from one location to another. Whether from an accident scene, rural clinic, or other hospital, our Lifeguard professionals offer 24/7 service to our community.
Our team members include critical care RNs, paramedics, respiratory therapist specialists, advanced practice nurse practitioners, and emergency medicine physicians.
We go where our patients need to go, sometimes far beyond the local community. In order to provide that service, we cooperate with our aviation partner Seven Bar Aviation Services to operate two airplanes, one helicopter, and one critical care ground ambulance. If a patient requires transport to a location beyond distance of our available aircraft, we work with requesting agencies to assist in arranging transport.
Recently Viewed Jobs
Sorry, have not recently viewed any jobs. Explore all of our jobs here.
Saved Jobs
Sorry, you do not have any saved jobs. Explore all of our jobs here.