A Patients Journey to a Fulfilling Career at UNMH
From a trauma patient to a future Cardiac Ultrasound Tech, read about Chris's journey to a fulfilling career at UNM Hospital.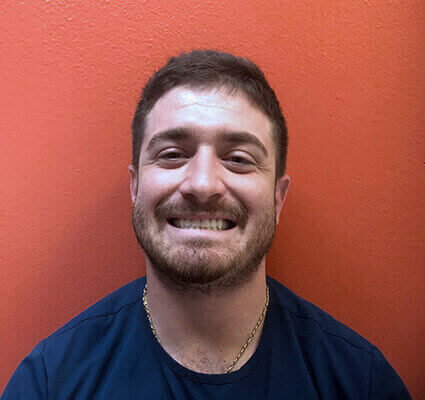 Making a career change, especially in the medical field, can be intimidating. At UNM Hospital, we applaud anyone who wants to progress in their career and we do anything we can to make sure our employees feel supported and find growth. Meet Chris, who proved that with hard work and determination, your career goals are achievable at UNMH.
Chris began his journey at the University of New Mexico pursuing a degree in sports medicine, but as the end of his program drew near, he wasn't sure that sports medicine was the right path for him. After moving away from healthcare working in the hospitality industry, Chris knew that a career in healthcare was his calling. "I knew that I wanted to go back to school to do something in the medical field, I just didn't know what I wanted to do," said Chris. It wasn't until a significant experience in his life set him on a course to achieving his goal.
One day while driving home for lunch, Chris was in a nearly fatal car accident. After spending time in the hospital with the amazing doctors and nurses in the emergency department at UNMH, he was inspired to get back into the medical field and pursue a career at UNM Hospital. "After that experience and going through what I did, I couldn't think of anything else I'd want to do, and UNMH is the best place to do it," said Chris.
Just three months after suffering a leg injury, Chris got a job in the emergency department at UNMH as a clerk. "It was amazing to be able to get into the medical field and see things that I may want to do – or know that I don't want to do," said Chris. After spending a year as an ER Clerk, Chris realized that the emergency department was not the right path for him and decided to pursue cardiovascular diagnostics and became an EKG Tech.
During his time as an EKG Tech, Chris had discovered a passion for cardiovascular diagnostic testing, he knew it was where he belonged. "I'm really interested in the heart and I wanted to start understanding more about the heart itself," said Chris, "It's really amazing to be able to go into a room, communicate with a patient, try to find out what's wrong or rule out something that's not wrong and assess from there."
Helping our employees achieve their career goals is something that UNM Hospital take pride in. In just three years, Chris has gone from ER Clerk to EKG Tech, and is now going back to school to get his Cardiovascular Sonography degree and has his sights set on a career as a Cardio Ultrasound Tech. Every step of the way, Chris had support from mentors and the many training and education opportunities offered at UNMH.
"The environment at UNMH is amazing. You're surrounded by people who are encouraging you to progress in the medical field."
Looking to make a career change? At UNM Hospital, we want our employees to feel supported. No matter your experience level, background or skill set, you can discover a fulfilling career at UNMH. Just ask Chris who believes, "You can accomplish anything you want to. Anyone in this hospital that has a job can absolutely stay in that job. If they want to progress they can absolutely progress, they just have to put forth the effort."
Find your calling with a career at UNM Hospital. Explore career opportunities and join our team!