Working Here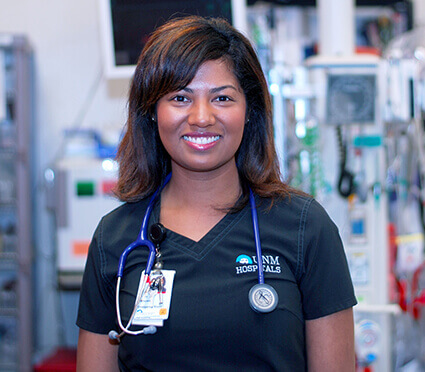 Our Culture
Discover a world-class care environment that will bring out the best in you. Inspired by our identity as a teaching hospital, we're highly motivated professionals who are always looking to learn and grow. Find the collaboration, support and autonomy you need to excel, and join our team in providing care for people throughout our community, our state, and our region.
Our Home
When you choose UNM Hospital, you're choosing to live in Albuquerque, New Mexico, the heart of the Southwest. Albuquerque is a blend of old and new, rural and urban, artistic expression and natural wonder. Living in Albuquerque is not for spectators! Be prepared to jump right in to the vibrant, engaging culture of the Southwest.
Diversity
Our vision is to become a nationally recognized leader in diversity, equity and inclusion in U.S. health care – to be sought after for our innovation, creativity, significant results and expertise. To help us provide the best possible care for the wide range of patients we serve, we support our professionals with training, consultation, and programs that address diversity, equity and inclusion.
Our Partners: