Pave Your Way as a Nurse at UNMH
As an RN at UNMH, there are many paths you can take in your career. Hear from Nurse Manager of the RN Residency Program Donna Winn on career pathing for RNs.
When you choose to pursue a career in nursing, one thing is certain: you'll have many options for what path you want to take. The flexibility nurses have when navigating their career is something you don't get in a lot of other professions, but it can also be intimidating and sometimes overwhelming.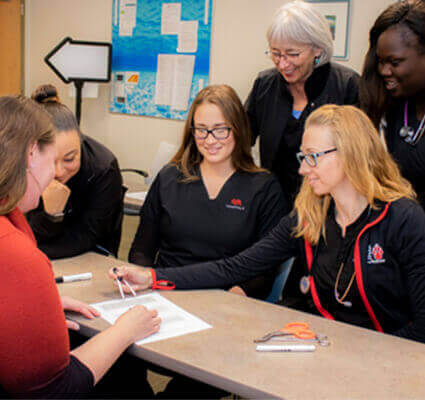 How do you choose a specialty or career path that is right for you? Luckily, at UNMH there's no need to worry. We're committed to providing all of our RNs with the tools, education, and resources they need to navigate their careers, no matter the path they choose.
UNM Hospital has a whole team dedicated to supporting the career goals of all of our nurses. When you start as a nurse here, you're immediately matched with a nurse educator who will serve as a mentor throughout your career at UNMH. Your nurse educator will help you create a personalized Professional Career Plan based on your goals. Throughout your time as a nurse at UNMH, you'll have regular check-ins with your nurse educator on your progress and how things are going. You'll also go over a yearly Nursing Portfolio, where you'll talk with your nurse educator on what you've accomplished in the past year and if there's anything changing with your career goals.
Donna Winn, a Nurse Manager for the RN Residency Program, oversees RN education and career pathing for new grads at UNMH. "Our team recognizes that our nurses are passionate about their career path, and we work with them to steer them into different directions to find the job that's the best fit for them," says Donna, "We want to send people to where they're going to be happy." Starting out as a Bedside Sitter at UNMH, Donna is proof of UNMH's commitment to supporting our nurses' career paths. Read more about her career path below!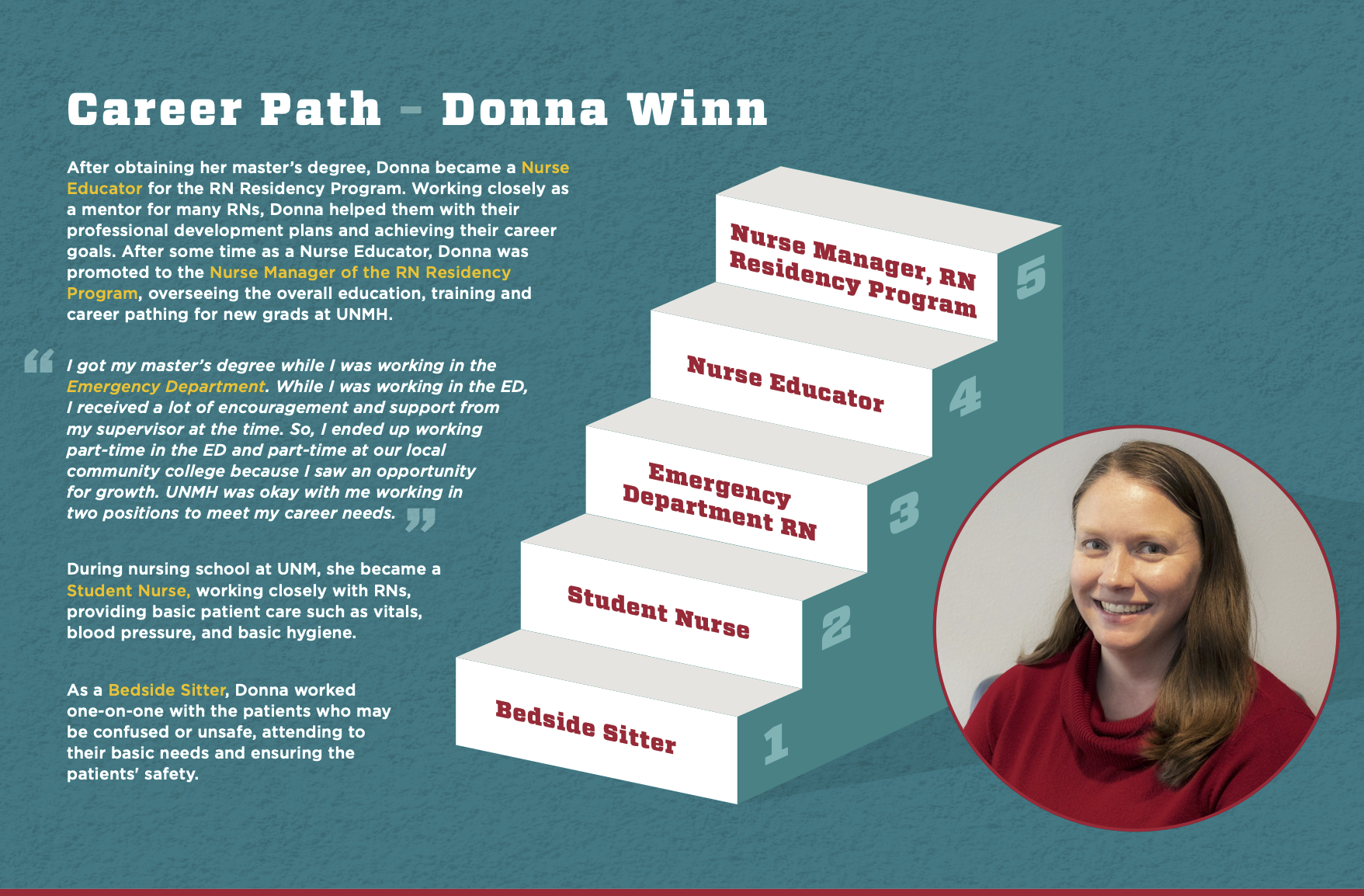 Career path for Donna Winn
After obtaining her master's degree, Donna became a nurse educator for the RN Residency Program. Working closely as a mentor for many RNs, Donna helped them with their professional develpoment plans and achieving their career goals. After some time as a Nurse Educator, Donna was promoted to the Nurse Manager of the RN Residency, overseeing the ovarall education, training and career pathing for new grads at UNMH.
I got my master's degree while i was working in the Emergency Department. While I was working in the ED, I received a lot of encouragement and support from omy supervisor at the time. So, I ended up working part-time in the ED and par-time at our local community college because I saw an opportunity for growth. UNMH was okay with me working in two positions to meet my career needs.
During nursing school at UNM, She became a Student Nurse, working closely with RNs, providing basic patient care such as vitals, blood pressure, and basic hygiene.
As a Bedside Sitter, Donna worked one-on-one with the patiends who may be confused or unsafe, attending to their basic needs and ensuring the patients' safety.
At UNMH, we make it our business to ensure that all our nurses are receiving the support they need to achieve their career goals. Join us and find out for yourself. Explore nursing opportunities today!