Life at UNMH
Marci, Behavioral Health RN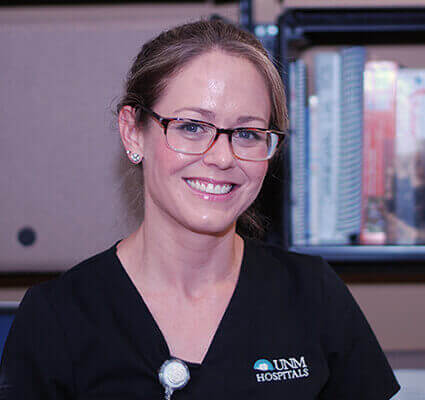 Joining the team at UNMH means something much more than just getting a job. It's an opportunity to learn and grow while being surrounded by mentors and peers who want to help you to succeed.
At UNM Psychiatric Center, there's opportunities for learning and support every step of the way at the state's largest community mental health care provider. Here's what Marci, a Behavioral Health RN, had to say about her experiences at UNMH
What are the advantages of the Psychiatric Center?
Our doctors are amazing. Because we're a teaching hospital, they really educate the staff at any chance they get. I think that's so important in behavioral health, because things are constantly changing. It's a soft science, so it's always evolving.
What is the culture like?
It's very collaborative, and a very close-knit group. The teamwork, communication – it's fantastic, a really fun place to work.
What is your schedule like?
We primarily work 12-hour shifts. There's also a lot of flexibility in exchanging shifts between nurses. It's easy to plan vacations or time off, because we have a set schedule.
How do you handle work-life balance?
I find it pretty easy since we have four days off every week. Working three days and being off four days allows you a lot of time to restore, regenerate and rejuvenate. You know what you need to do to do a good job for the patients.
What would you tell a new graduate?
The teaching hospital aspect affects everybody. The doctors, nurses, techs and administration are all committed to learning and growth. You're surrounded by people who are teaching. The professional development, as well. UNMH really encourages their nurses and their staff to further their education, and have conversations on where you can grow and how you can be successful here.
Interested in pursuing a dynamic career in a supportive learning environment? Learn more about Behavioral Health at UNMH.