Serve your community in a dynamic place to grow. First Choice Community Health Centers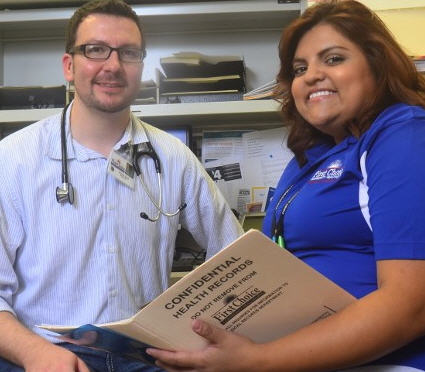 About us
At First Choice, we can offer professionals like you a meaningful experience while you provide healthcare services to the most vulnerable in our community. We're a non-profit organization that partners with UNM Hospital and we operate nine Health Centers in Central New Mexico.
For the community
Here, you'll be part of a team that offers more than just health services to our patients and our community. We also address our patients' emotional, social, and cultural needs, which are so critical to their health and success. We serve more than 50,000 patients and offer increased access to primary care for individuals and families across the greater Albuquerque Metro Area.
For your career
Our partnership with UNMH started more than 48 years ago and gives us a chance to offer even more options for our patients, and increased learning opportunities for our staff. We're also moving into a team-based care model that will help our team delegate responsibilities and offer better care. .
First Choice is an innovative, exciting place to work. One where you can learn new skills and advance your own career while also reaching out into the community and making a real difference. As part of a Federally Qualified Health Center (FQHC), our providers are also eligible for NHSC Loan Repayment.
Our Roles
Interpreter Language Services
Physicians
Nurse Practitioners
Nurses
Physician Assistants
Medical Assistants
Community Health Workers
Behavioral Health Providers
Psychiatric Roles
Dentists
Dental Assistants
Hygienists
For further details or to apply, visit our website at www.fcch.com