Make a Difference as an ICU RN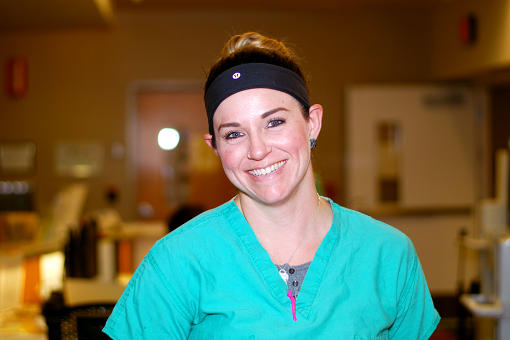 As New Mexico's largest academic medical center, UNM Hospital has been at the forefront of the fight against the COVID-19 pandemic. Our teams of doctors, nurses, respiratory therapists, and all other hospital staff have banded together to keep the communities we serve safe and healthy – and now we need your help.
To address the needs of our communities and patients during these difficult times, we currently have an immediate requirement for inpatient RNs in the following departments:
Pediatric ICU
Neuroscience ICU
Medical/Cardiac ICU
Trauma/Surgical ICU
We offer relocation reimbursement to both in and out of state candidates, as well as a generous Tuition Reimbursement program. You can earn your BSN or MSN with no work commitment and increase your hourly pay at the same time.
If you're a registered nurse looking to work in an ICU environment at a nationally recognized leader in care, read more about our various intensive care units and find the opportunity that speaks to you.
Pediatric ICU
Our Pediatric ICU is a 20-bed unit staffed 24 hours a day by RNs and Patient Care Techs. We care for a wide range of patients, from infants to teenagers. A huge array of conditions and illnesses are treated, including respiratory failure, multi-system trauma, burns, post-interventional cardiac care, acute renal failure, shock, multi-systemic organ failure, sepsis, and many more.
We prefer candidates to have a minimum of one year of critical care experience working with pediatric patient population.
Neuroscience ICU
As a Neuroscience ICU RN at New Mexico's only neurological and neurosurgical stroke unit, you will be collaborating with skilled physicians, and find your perspectives valued when treating patients who have brain and spinal injuries and other neurological conditions. The nurses on NSICU also participate and assist in Neurocritical care research, with implications to change medical and nursing practice nationwide.
Numerous education and training opportunities on the management of traumatic brain injuries, intracranial hemorrhages, ischemic and hemorrhagic strokes, intracranial tumors, status epilepticus and more. Our RNs also receive training in the following areas:
Specialty training for devices used to care for patients requiring multimodality monitoring, including monitoring of ventricular intracranial pressure, parenchymal intracranial pressure, brain tissue oxygenation, and cerebral oximetry, and more
Specialty training for continuous renal replacement devices with consideration to the unique needs of the neurocritical care population
Training on devices used to detect and triage seizure activity that is nursing-driven and does not require traditional EEG
Training on intravascular and non-invasive targeted temperature management devices for thermoregulation
One year of Acute Care experience is preferred.
Medical/Cardiac ICU
Our Medical/Cardiac ICU is a 24-bed multidisciplinary unit that provides care to a wide range of patients. Our expert teams of physicians, nurses and support staff monitor diseases including acute coronary syndrome, cardiac conditions, diabetic emergencies, renal failure, sepsis, and more.
Here is an example of the type of procedures and technologies utilized in the Medical/Cardiac ICU:
ECMO
CRRT
Impella
Septic Shock
GI Bleeds with massive blood transfusions
Use of Minnesota tubes
Trauma/Surgical ICU
UNM Hospital is the only Level 1 Trauma Center in New Mexico. As an RN with Trauma/Surgical ICU, you will have the opportunity to provide care for the highest level of acuity and be a part of a multidisciplinary team approach to patient care, with the nurse as the central contributor.
Inpatient RNs on our team participate in a variety of service lines including:
A robust ECMO program
Care for a variety of service lines including trauma, emergency general surgery, vascular surgery, cardio-thoracic surgery (including open heart procedures)
Ready to start a career where you can truly make a difference in a patient's life? Explore ICU RN opportunities at UNM Hospital today!