Nursing
Nursing Management at UNMH is committed to the professional advancement of the nursing staff. UNMH provides a large number of Continuing Education Courses to meet diverse educational needs. The Management encourages the staff to become certified in their specialty areas and obtain their Bachelors and Masters degrees. In addition, UNMH provides tuition reimbursement for classes and reimburses for certification examination fees. Most recently, we added a UNMH-specific student cohort to the UNM College of Nursing RN to Bachelors in Nursing program.
UNMH is on a journey to Magnet Recognition. Magnet designation is the highest level of recognition the American Nurses Credentialing Center awards an institution for which nursing services are provided. Institutions that meet the stringent criteria exhibit a commitment to a higher standard of care and improved patient outcomes.
Nursing leadership at UNMH is also committed to the concept of decision-making at the point of care. To that end, shared governance was implemented in the institution in 2004. Unit-based and area shared governance councils were established. Charters are being developed and unit-based initiatives are underway. A Nursing Staff Council comprised of Unit-based Shared Governance Chairs, Co-Chairs, and other interested staff has recently formed to provide a venue for two-way communication between Nursing Administration and Staff.
Preparing for the Worst – UNMH Emergency Department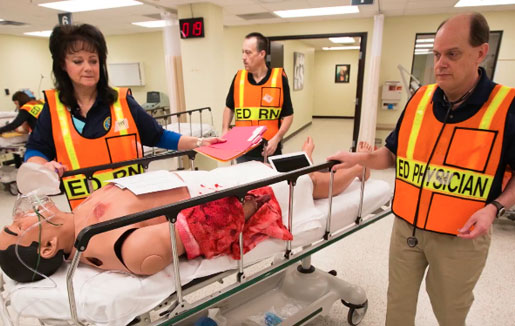 New Mexico is now better prepared for when a disaster hits, after more than 30 UNM and UNM Hospital emergency responders completed a week of advanced training at the Center for Domestic Preparedness (CDP) in Anniston, Alabama. The CDP is operated by the Department of Homeland Security's Federal Emergency Management Agency and is the only federally- chartered Weapons of Mass Destruction (WMD) training facility and fully equipped training hospital in the nation.
View video >