Serving Our Communities Through Home Health Care
Hear from some of our team on why they love being Home Health Care providers!
Home Health Care is exactly what it sounds like – it's a type of care that is provided in the home setting. Home Health Care providers can range from RNs and physical therapists to social workers and case managers and provide care that includes education, medication management, wound care and chronic disease management. Patients often are discharged from the hospital without the proper equipment and education to manage their chronic diseases or injuries. Home Health Care provides these patients with the tools and resources they need to maintain independence after being discharged from the hospital.
There are many reasons why Home Health Care is a great career path to pursue as an RN, physical therapist or social worker. Maybe you want more work autonomy and work-life balance? Or maybe you want the chance to learn new skills while providing a unique kind of care you wouldn't be able to when working in the hospital. Hear from some of our team on their experiences and why they love being Home Health Care providers!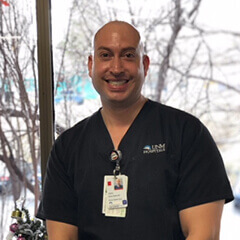 Meet Jeremy, one of our Home Health RNs here at UNMH who has been a part of the team for about two years. Jeremy chose to become a Home Health RN for the same reason most nurses choose to become RNs. "I chose to become an RN to help others. I was always interested in the public sector of nursing, where I felt we are needed within our local communities," says Jeremy, "Nurses often don't have adequate time to help educate patients due to being overwhelmed with patient loads. In the home setting, we get the opportunity to spend much needed time with the patients."
It's important to know the basics of nursing before pursuing a career in Home Health Care. Take it from Jeremy, "I would definitely advise someone to get a good grasp of nursing first, because in Home Health, you are often on your own. You have your colleagues and management to follow up with, but in the home setting, you're often alone and must rely on critical thinking skills that come with experience in the hospital."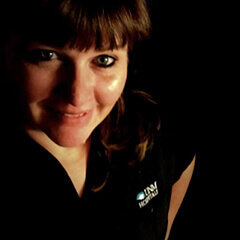 Carrie has been a Home Health RN here for about three years. Carrie came to Home Health after spending some time as a Med/Surg RN. Carrie chose to become a Home Health RN because of the relationships she's able to build with her patients. "I often felt like the hospital was a revolving door. If I was lucky, I would have the same patient for three shifts in a row. Seeing them in their home, I'm allowed to build rapport and relationships," says Carrie, "I get to see the whole picture, see them get better, and teach them the tools they need to control their health, which is very rewarding."
Carrie also enjoys the independence and autonomy of being a Home Health RN. "I also enjoy the freedom to create my own schedule to best fit my patient's needs. I enjoy the autonomy to work with my patient and develop care plans tailored to their goals," says Carrie.
"If you like listening, hearing people's stories and building relationships – there's no better place than Home Health. I really do believe this is the future of nursing"
Our Home Health team is committed to providing a special kind of care for our patients. Join us and help make a positive impact in our community. Explore Home Health opportunities at UNM Hospitals!