Build Your Future at UNM Hospital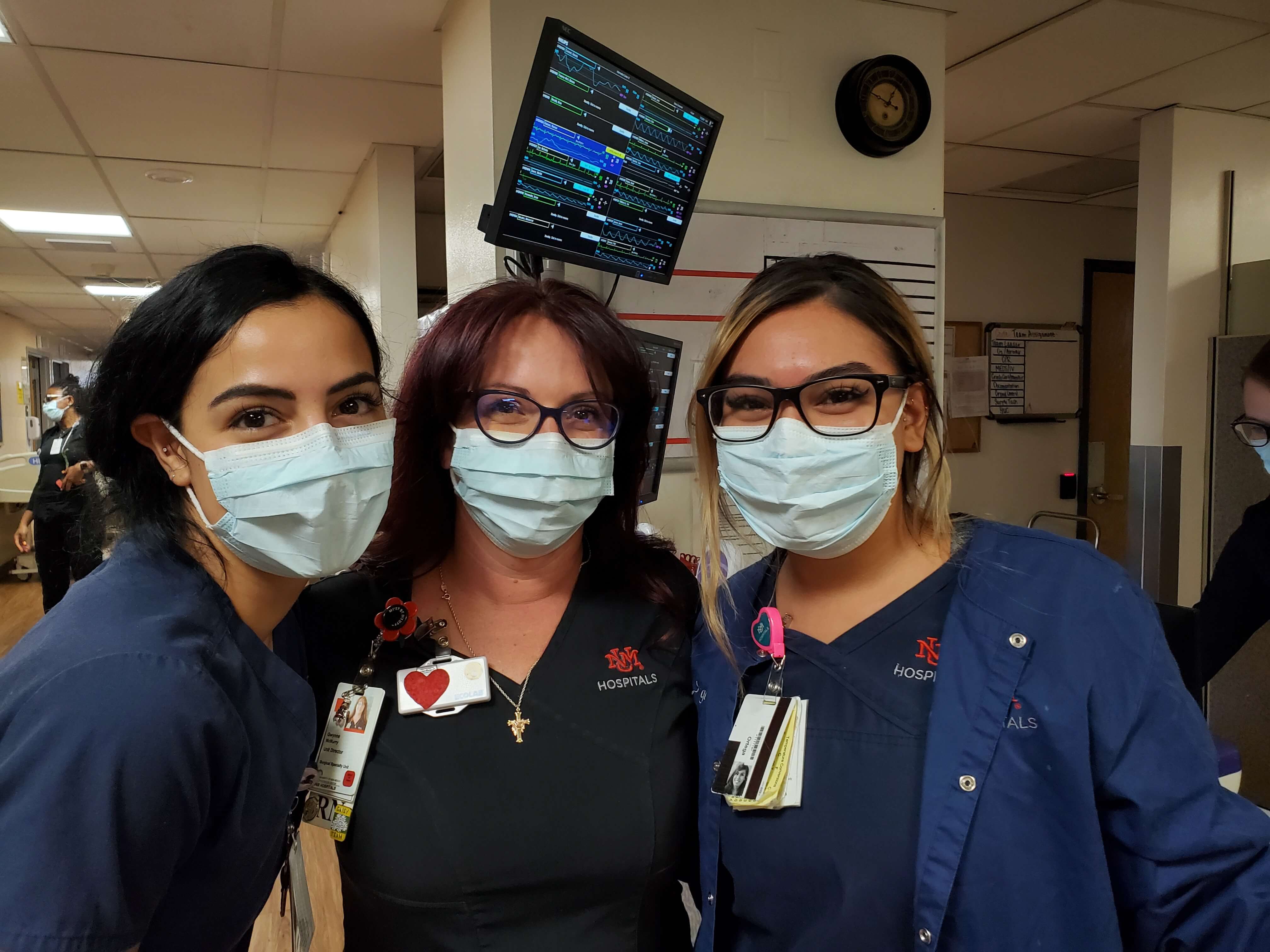 The COVID-19 pandemic brought on many challenges for our health care system. If there's one thing we learned, it's that there's never been a greater need for skilled and passionate clinicians to make a difference in patient care and our communities.
At UNM Hospital, we know our patients and providers benefit from ensuring our medical assistants, patient care techs, and other clinical support staff have everything they need to provide the best care possible.
We're doing our part to hire and train future leaders in health care. Through a variety of educational programs, tuition assistance, and training, we're empowering our early-career professionals to be the best they can be. Gwynne, RN, and unit director of our south surgical specialty unit, shares her career journey and why she believes UNMH is a great place to start your career.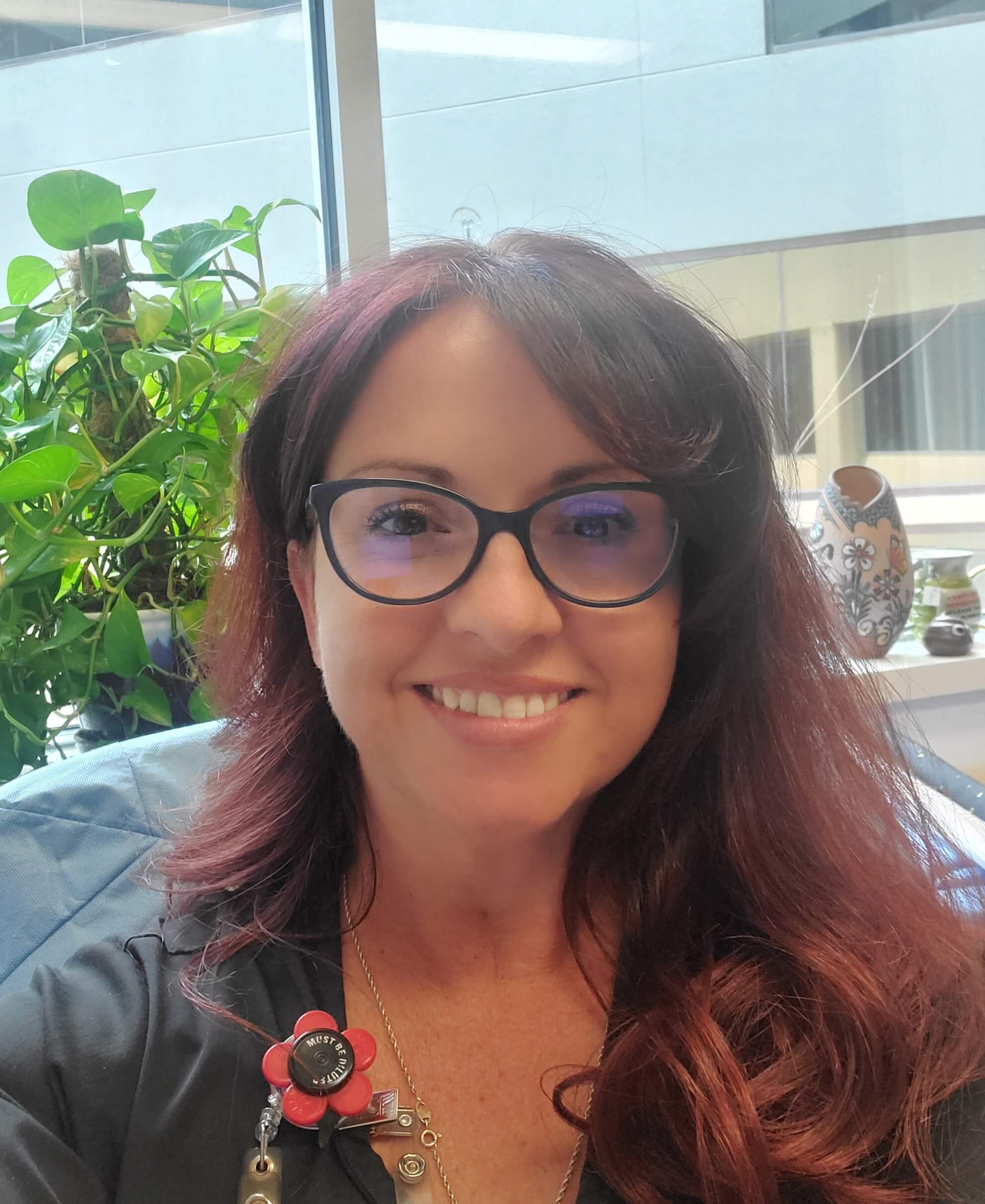 How did you start in your career in health care?
I was a vet tech for about 10 years before starting my career in health care. After leaving animal care, I worked as a patient care tech at a couple of different hospitals and decided to pursue a career in nursing. Upon receiving my nursing degree, I participated in the RN residency program at UNMH and have worked here ever since.
What kinds of early career roles are available at UNMH?
We have a variety of opportunities for those who are in the early stages of their careers. We hire both nurse interns and externs. Nurse interns are students from the University of New Mexico College of Nursing and nurse externs must be enrolled in a nationally accredited nursing program. We provide our interns and externs with hands-on training and real-world experience, so they have the skills they need to be successful as nurses.
We also hire part-time and full-time medical assistants and patient care techs. A patient care tech is required to go through either a CNA or PCT certification course, and a medical assistant must go through an MA program.
What is the difference between a medical assistant and patient care tech?
Here at UNMH, patient care techs typically work in inpatient areas, where medical assistants tend to work in clinic or outpatient settings. There is some overlap in duties between the two roles. Both medical assistants and patient care techs will provide direct patient care, but medical assistants' scope of work is a little broader as they will help with administrative duties as well.
What advice would you give someone looking to pursue one of these roles, but doesn't know where to start?
Well, to work as a nurse intern or extern, you must be enrolled in nursing school. To work as a medical assistant or patient care tech, the first step would be to enroll in a program and obtain a certification. There are many schools in the area that offer classes and programs where you can get the training you need. My advice would be to reach out to various schools to find out which program is the best fit for you.
What kinds of roles can medical assistants or patient care techs move into?
Our nurse interns and externs are working towards their nursing degrees and becoming RNs. In order for a patient care tech or medical assistant to grow in their career, they usually will have to attend additional schooling. Sometimes, we see them grow into office management or administrative leadership roles. No matter what your career goals are, we do everything we can to support you!
How does UNM Hospital support their employees' growth?
In my unit, and many other departments at UNMH, our employee's education and growth are extremely important to us. I ask all the employees on my team to turn in their class schedule to me at the beginning of their semester. That way, I can ensure that they're able to balance work and school, regardless of what they're going to school for. We also offer tuition reimbursement for any employees who have been working at UNMH for at least six months and are attending school.
Why do you think UNMH is a great place to start your career in health care?
For me, one of the best things about working as a medical assistant or patient care tech is the job security. There's never going to be a time where you won't be able to find a job in health care, especially clinical support roles. What sets UNMH apart from other organizations is the emphasis on growth and learning. Being the largest and only academic teaching hospital in New Mexico, there really is no better place to work if you're an early career professional looking to learn new skills and grow in their career.
If you're interested in pursuing a nursing career, click here to learn more about our nurse intern and extern programs. We're also hiring medical assistants and patient care techs to support our mission. Discover more opportunities for clinical and nursing support here.