University of New Mexico Hospitals Knows What it Means to be Family Friendly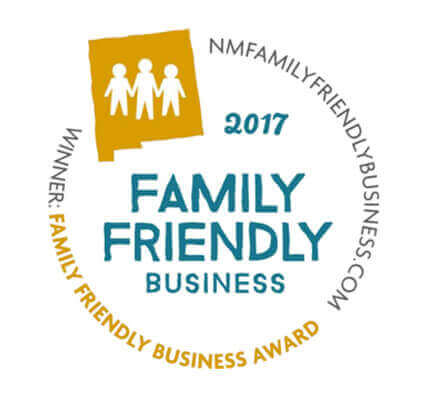 University of New Mexico Hospitals is a nationally recognized leader in quality care, as well as being the only Level 1 Trauma Center in New Mexico. Whether you're one of the 90,000 yearly patients seen in our emergency department, or one of our employees, you'll have access to unparalleled knowledge, technology, and collaboration needed to support your health needs or grow your professional skills.
We're proud to announce that UNMH has recently been recognized with a "Family Friendly Business Award" by Family Friendly New Mexico. FFNM is an awards program put together by the Task Force on Work Life Balance. Their goal is to recognize employers and businesses in New Mexico that offer family-friendly employee benefits, and promote the growing number of businesses that offer family-centered polices.
Giovanna Rossi, head of Family Friendly New Mexico explains what this recognition means.
"As we grow the state's economy, we have the opportunity to be a national leader in offering New Mexicans workplaces that help companies attract and keep the best workers."
This program aims to bring a positive approach to the training and resources offered to employees. We believe it is important for our employees to grow professionally as well as personally which is why we've implemented programs and policies to aid that growth.
Some of the policies that Family Friendly has honored us for are:
Health insurance (Including Dental, Vision, Life Insurance, and Long-Term Disability)
Paid vacation
Making reasonable accommodations for pregnant employees
Flexible leave time for parents to attend to their kids' medical or school needs
Paid family leave
Ensuring workplaces have proper breastfeeding space and storage
Click here for the full breakdown of UNMH, benefits programs.
It is important to us to implement policies that work for all of our employees, because that goes further to benefit our entire team.
"Implementing family-friendly policies can be a simple, concrete investment a company can make to ensure it can compete for highly qualified employees. Studies have shown that costs associated with creating family-friendly benefits are more than made up for in improved productivity, employee morale and employee retention."
This improves our hospital as a whole and ensures that you'll not only stand alongside experts in their fields, but you'll have the opportunity to become one as well. University of New Mexico Hospitals are a great place to work if you're seeking a new opportunity to challenge yourself professionally, or you're seeking an employer that understands your work-life balance needs. To take the next step in your career with UNMH, explore our open opportunities.