Employee Spotlight
Neil, Pulmonary Services Supervisor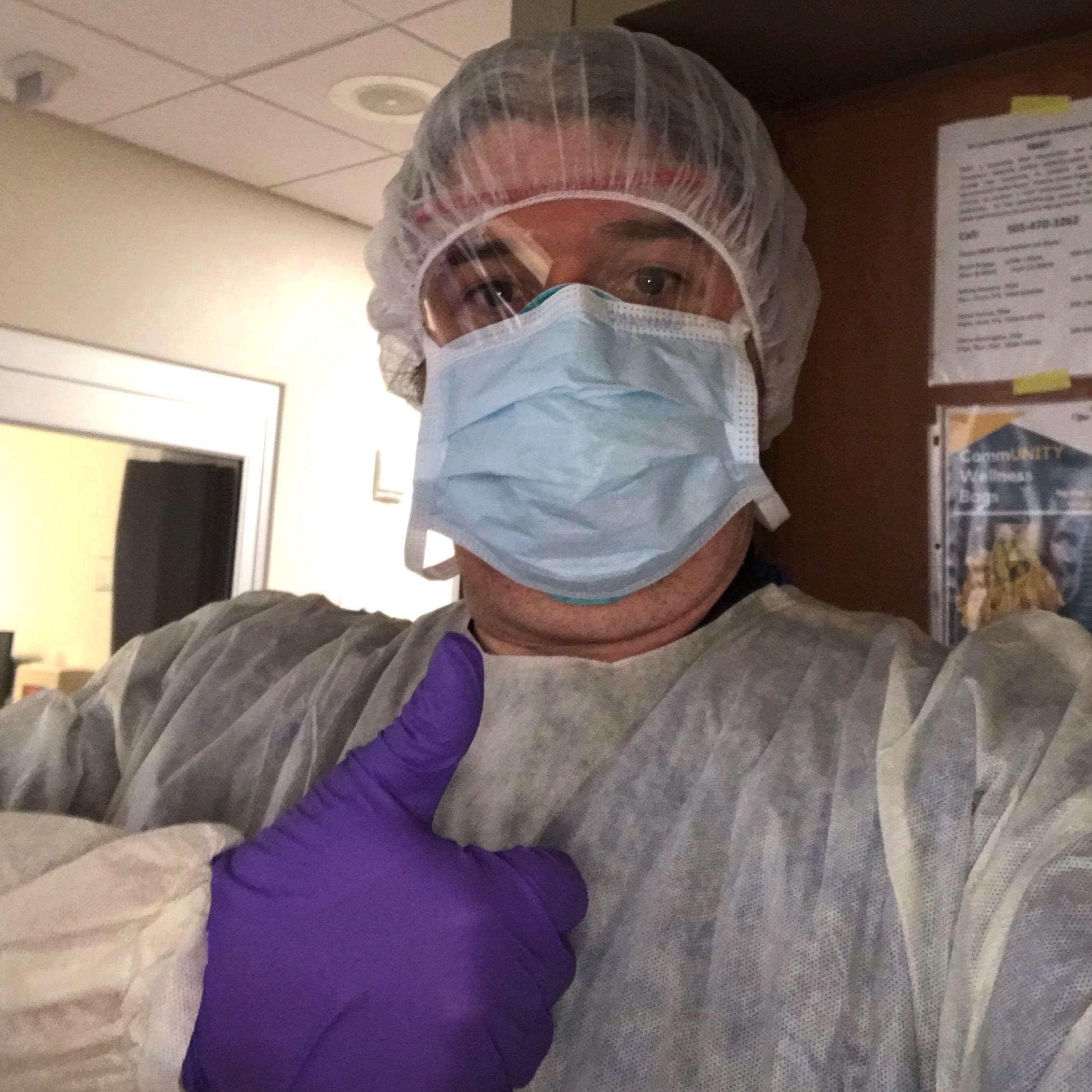 At UNM Hospital, our healthcare heroes walk into work every day with a collective goal: to make a positive impact in our patient's lives and our communities. As part of pulmonary services, you'll be able to help us achieve that goal.
Joining our respiratory therapy team is an opportunity to learn something new every day and leverage cutting-edge technologies, all while making a real difference in people's lives during these challenging times.
Meet Neil, one of the supervisors on our team. With nearly 30 years of experience, Neil knows the ins and outs of what it takes to be successful in pulmonary and respiratory care. Continue reading to find out more about his experiences and insight!
Why did you choose to pursue respiratory therapy as a career?
I chose respiratory and pulmonary care because I didn't want to be in one place all the time, and I wanted to be able to work in a variety of environments. I like the ability to be able to serve different age groups in a variety of settings. Respiratory Therapists can provide support to several different teams all in one shift. Whether it's an adult trauma or a multi-birth preterm delivery, there's never a dull moment in respiratory care.
How has COVID-19 changed the way you work?
The COVID-19 pandemic presented many challenges for our department. Some challenges we've faced include the volume of patients, equipment shortages and daily changes to procedures. We have always been a very resourceful group, so we naturally adapted to the challenges that presented themselves.
How do you feel you are making a difference during the pandemic?
In respiratory therapy and pulmonary services, our goal during this pandemic has been simple: keeping people alive. I feel I am making a difference because of the critical, lifesaving care my team is providing for our patients. Also, having almost 30 years of experience in the field, it feels good to know that I can pass down my skills and experiences to physicians, nurses and new members on my team.
How has UNMH and your team supported you?
We're a very tight-knit group. Everyone has always had each other's back and supported each other both personally and professionally. That foundation of trust and respect made a huge difference when the pandemic hit. Having an amazing group helped us cope through the dreary days. It's hard to put into words how lucky I am to be working with my team.
What advice would you give someone looking to become a Respiratory Therapist at UNMH?
Being the largest teaching hospital in New Mexico, I would advise anyone just starting their career to never pass up on an opportunity to learn something new. In this department, it's common to be working with providers who may not have a lot of experience working with patients who are in critical respiratory conditions. It's important to not only learn as much as you can, but also to provide guidance to those who are new or less experienced. That's what I love about working here – you can learn and teach daily. It helps keep the mind fresh.
What do you love about your career?
My favorite part about working at UNMH is knowing that I'm making a real difference in people's lives during these challenging times. It makes my day better because I know that I am helping serve the community at large and not just maximizing profit margins.
Looking for a career where you can make a real difference? Join us – and become part of our mission to delivering more for our communities. Explore respiratory therapy careers at UNM Hospital today!