Life at UNMH
Brian Long, Nurse Practitioner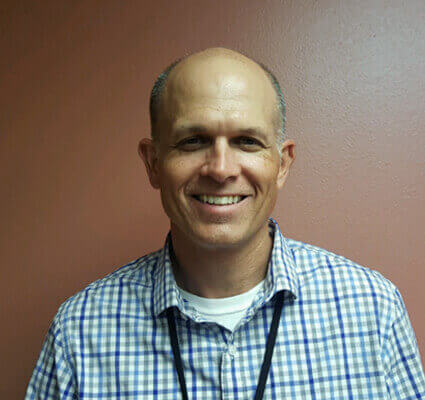 Brian shares how he's benefitted from UNMH's training programs.
When you work at the University of New Mexico Hospital (UNMH), you pursue your passion within an award-winning health care system, committed to providing you a work environment where you can flourish. We offer a range of professional development programs within our teaching hospital that'll allow you the opportunity to earn a quality education while simultaneously gaining valuable work experience. From training programs to other benefits, we offer a range of resources to ensure that all members within our organization are well-versed in their field. Nurse Practitioner Brian Long is one our many health care professionals who have used our excellent resources and unique opportunities to further his career.
"Working in a dual role (Provider and Director) allows me to directly impact patients and families, and to have a broader impact by supporting the practice of other providers. It's also allowed me to broaden my career through leadership opportunities. I would describe UNMH as supportive."
"I would describe UNMH as supportive — at all levels. Employees are encouraged to continue growing and developing."
Long loves all the programs provided to each UNMH employee at no extra charge. "Each employee is given the opportunity to complete a basic orientation. We also have a mentorship program which pairs new providers with an experienced provider. There are always opportunities for employees to sign up for additional training."
Working for UNMH has afforded Long with the opportunity to broaden his career in many areas. "I continue to work as a clinician, but have been able to begin working in a management/leadership capacity as well. Furthermore, there has been a significant investment from UNMH in me as a leader."
Are you passionate about a career in health care? Apply to enroll and participate in our exceptional training and educational programs at UNMH!