Advanced Practice Careers
Nurse Practitioners, Physician Assistants and other advanced practice healthcare providers share their experiences and tips on how to grow in their careers at UNMH.
When you choose a career at UNM Hospital, you pursue your passion within an award-winning healthcare system committed to providing you a work environment where you can flourish. We offer a range of professional development programs within our teaching hospital that will allow you the opportunity to earn a quality education while simultaneously gaining valuable work experience. From training programs to other benefits, we offer a range of resources to ensure that all members within our organization are well versed in their field.
Take it from one of our own. Nurse Practitioner, Brian Long. Brian is one of our many healthcare professionals who has used our resources and unique opportunities to further his career. "Working in a dual role (Provider and Director) allows me to directly impact patients and families and to have a broader impact by supporting the practice of other providers. It's also allowed me to broaden my career through leadership opportunities," said Brian. "I continue to work as a clinician but have been able to begin working in a management/leadership capacity as well. There has been a significant investment from UNMH in me as a leader."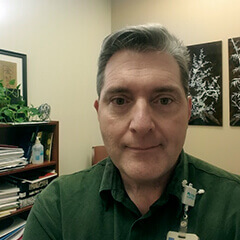 Meet John Gray, a Psychologist here at UNM Hospital. John works in one of our primary care clinics providing behavioral health services to a wide variety of patients. Throughout his career, John has been given opportunities at UNMH that he wouldn't have been given elsewhere. "Because of my interest in psychology and behavioral health, I have had the opportunity to serve in several different roles within the organization. I love working in an environment where there are so many opportunities for growth," said John. With 15 years of experience under his belt, John credits much his success in his career to the support he's received from UNMH along the way. "With UNMH being a teaching hospital, I am always learning something new and am richly supported here."
Thinking about taking the next step in your career? We asked some of our Nurse Practitioners and Physician Assistants what advice they would give to someone looking to move into advanced practice roles:
Find a Mentor

"I would advise someone looking to move into an advanced practice role to find a mentor and shadow in areas of interest to ensure it's a good fit and find out what a typical day is like."

Learn as Much as You Can

"It is especially important as an early advanced practice provider to work in an environment where there are many training opportunities."

It's Just the Beginning

"Achieving a PA or NP is a beginning, not an end. There is a lot of growing and learning that will be part of the experience as a practicing NP or PA."

Find Your Calling

"Find your niche, and make sure that your education fits the patient population you will be serving."

Support Each Other

"Find a support system. Choose an NP/PA program where you will be supported in your clinical rotations and a team that will motivate you to strive for better."
Take the next step in your career. Explore career opportunities in advanced practice at UNM Hospital!