Life at UNMH
Aisha Jones, Director of Inpatient Nurse Practitioners and Physician Assistants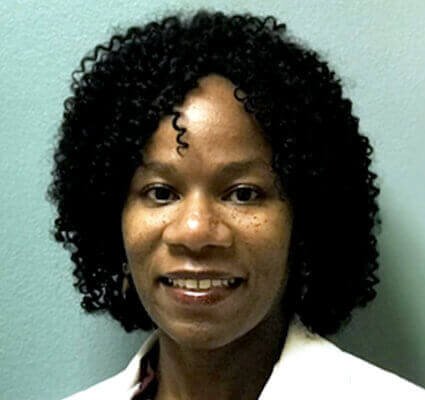 Aisha shares how she's benefitted from UNMH's training programs.
When you choose to work at the University of New Mexico Hospital (UNMH), you pursue your passion within an award-winning health care system, committed to providing you a work environment where you can flourish. In fact, we offer a range of professional development programs within our teaching hospital that'll allow you the opportunity to earn a quality education while simultaneously gaining valuable work experience. From training programs to other benefits, we offer a range of resources to ensure that all members within our organization are well-versed in their field. Aisha Jones, DNP is one our many health care professionals who have used our excellent resources and unique opportunities to further her career as a doctor.
"With UNMH being a teaching hospital, it offers a lot of training opportunities. For example, I've experienced the unit base education sessions, grand rounds and the BATCAVE simulation program. In collaboration with your training and your service, you will gain the tools and resources to be an integral part of the UNMH team," Jones says.
Along with these benefits, Jones was provided a tuition reimbursement opportunity while pursuing her doctoral degree here at UNMH. With this benefit, she continues to gain relevant work experience at a highly accredited education, without piling on the debt.
"I was able to utilize the education reimbursement option to get my doctorate. I liked this benefit because I didn't have to take out any more student loans. I also could work full time during my schooling. I enjoy my dual role here; one of management and clinical practice."
There are also opportunities for personal development working at UNMH, given the supportive environment among co-workers. As a teaching hospital, the role models and mentors here are open-minded and encourage working jointly to deliver the highest quality care to our patients. Jones elaborates on the positive work culture at UNMH: "UNMH has a cohesive, collaborative environment that is very saturated with wealth of knowledge."
Now an expert in her field, Jones offers her valuable advice to anyone considering a career within the medical field: "Find an area you can see yourself working in for five years. Go with what your gut tells you and let your passion drive you!"
Are you passionate about a career in health care? Apply to enroll and participate in our exceptional training and educational programs at UNMH!