Life at UNMH
Sarah, ICU RN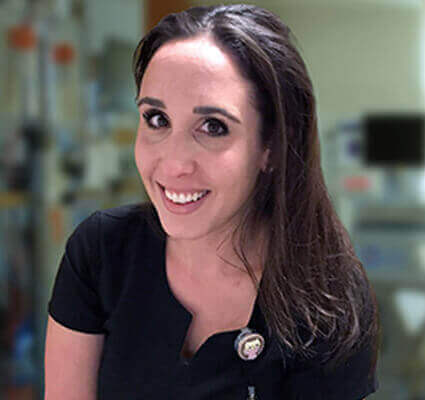 At UNMH, we strive to help each and every one of our employees grow and find success. With our size and scope, you can choose from a wide range of disciplines and specialties. No matter what area best suits your interest and expertise, there's an opportunity for everyone at UNMH.
Sarah, one of our ICU Registered Nurses, is making a transition from being a nurse to becoming a Nurse Practitioner. Find out what Sarah had to say about her transition, and how UNMH helped her along the way.
How has your experience been working with your team?
What was really surprising to me was the camaraderie that you felt in your specific unit, we all became a little family. It's very interesting to see the relationships that you build. That's a cool part of working here and that's why I chose to stay, because I wanted to stay in a teaching institution.
Why did you choose to stay with UNMH during your transition?
A lot of us stay within the institution even if we don't necessarily stay in our specific units. The good thing about nursing is that you can always change your role. It's nice to be able to move to different departments with the same company. I stayed here because I love it here, it's a good place to work.
What opportunities does your transition have in store for you?
I'm transitioning from being a nurse to becoming a nurse practitioner. There's a lot of different things I can do. I can participate in research or I can go back to school. It's nice to know that you have a supportive community here that fosters your growth.
What does it take to succeed here
I think in the ICU, you must be very detail-oriented. And very self-motivated to succeed, because your patients are in such critical condition. As an institution as a whole, I think it's very important to be able to communicate with people because we have people who come from so many different backgrounds who work here. And to have that ability to build a relationship even with people who you're unfamiliar with.
Find out what opportunities at UNMH might be right for you. Check out our current openings!