University of New Mexico Hospital Nurse Residency Program
UNMH is the only Level I trauma center and academic medical center in New Mexico. These attributes provide the Nurse Residency Program many opportunities for residents to learn and work with multiple healthcare disciplines that are committed to teaching them. The diverse patient populations, clinical settings, advanced technology, and the vast number of medical sub-specialties will give you opportunities to advance your nursing career from novice to expert.

It is a requirement of UNMH that all new graduate nurses participate in the Nurse Residency Program. The Nurse Residency Program is a transition to practice program that assists in bridging the gap between student nurse and new graduate nurse. The program follows a curriculum created in partnership by the AACN and Vizient. The curriculum is known to be the gold standard curriculum for all residency programs nationally. The Nurse Residency Program is tailored to be an adjunct to your clinical orientation and meet the clinical educational needs for every clinical area within and outside of UNMH. The program is also designed to allow nurse residents to have a voice in seminar content. Three cohorts are hired during the year: January, June, and September.
The highlights of the program include:
Clinical area orientation
Gain confidence and competence in critical thinking, judgment, and technical skill
Monthly seminars that are a hybrid of lecture and skills
Learn from patient care experts from the residency program team, unit based educators, clinical education, and leadership
Learn to collaborate and advocate in multidisciplinary healthcare system
Network with various UNMH specialty team members
Mentorship and support from specifically trained new graduate nurse mentors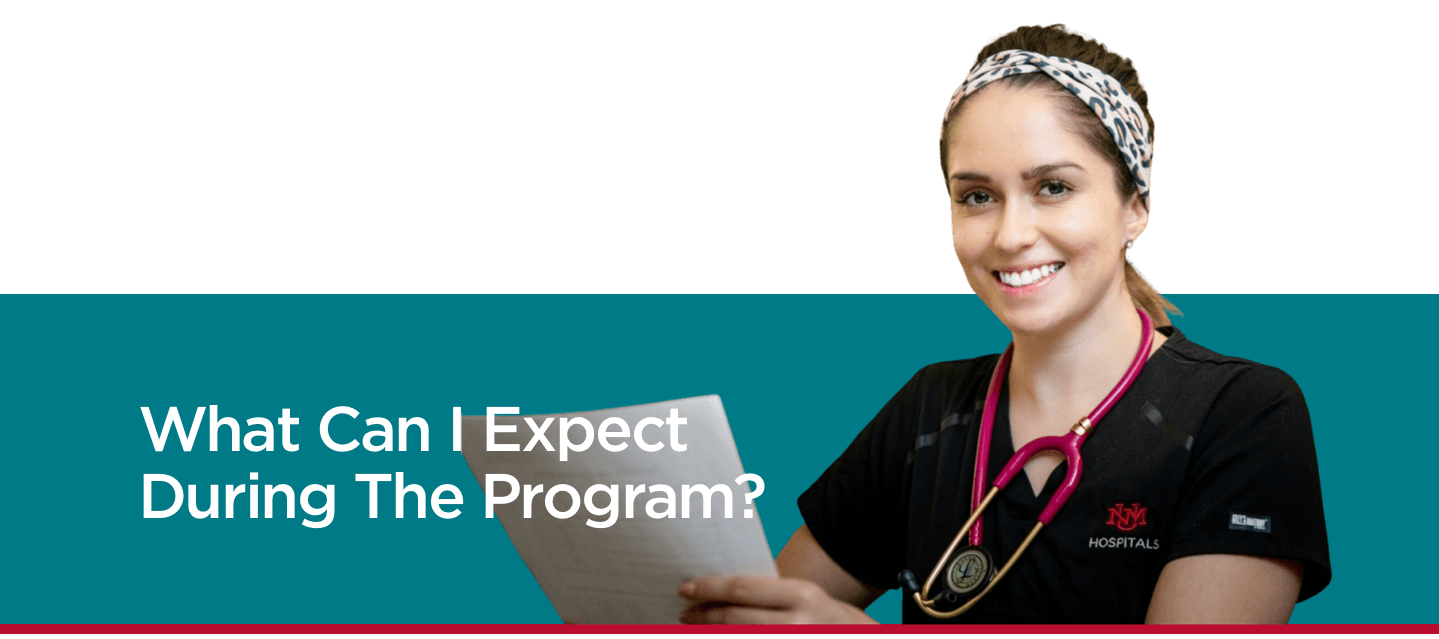 The program is designed for you to have an opportunity to learn about inpatient and outpatient areas of UNMH. These areas include, Emergency/Trauma, ICUs, Labor and Delivery, Women's Special Care, Medical/Surgical Units, Pediatrics, Neonatal, Behavioral Health, Outpatient Clinics and the many other specialty areas and teams of UNMH. The year long program with provide you with:
New Hire Orientation with a specific nurse residency onboarding week
A full 10 – 12 week orientation in your clinical area with a designated preceptor
Seminars with a variety of clinical content and skills labs, professional development, & education
Specific education classes related to your specialty per UNMH Clinical Education Department
Introduction to nursing professional practice and nursing evidence-based practice
Shared Governance and hospital-wide committee engagement
Shadow shift experience in a clinical area of choice