Lifeguard Team at UNM Hospital
Hear what it's like to work on UNM Hospital' airborne emergency medical transport team.
Lifeguard is University of New Mexico Hospital' airborne emergency medical transport program. Whether a patient suffering from injury or illness is a few miles away or in another state, the Lifeguard team is equipped to serve our many surrounding communities.
Our Lifeguard team is composed of RNs, paramedics, nurse practitioners, respiratory therapists and physicians who operate 24/7 and specialize in emergency, intensive and critical care. Our elite team is prepared to handle a wide variety of cases such as heart emergencies, strokes, traumatic injuries, pregnancy complications and pediatric/neonatal emergencies. Lifeguard's aircraft and ground ambulances are equipped with state-of-the-art medical equipment. The Lifeguard fleet consists of a King Air B200, AW119 helicopter and designated aircraft for the neonatal team. Hear from some of our team members on what it's like to work on Lifeguard.
How does the Lifeguard team at UNMH differ from other medical transport programs?
"In New Mexico, it is one of two hospital-based programs that works with the states only Level 1 Trauma Center and Level 4 Neonatal ICU. We're the only service in the state that is able to provide the specialized equipment and treatments." – Maggie O'Donnell, Lifeguard Director
"At Lifeguard, we have the opportunity to fly both fixed wing and rotor in the same shift. We can do a scene close to the city and also go several states away. We fly all patient populations from premature newborns to adults. Being hospital-based opens up a lot of opportunities for hands-on experience." – Stephen Newkirk, Flight Paramedic
What is your favorite aspect of your job?
"My favorite aspect of my job is being able to fly rotor, fixed wing and helicopter. Lifeguard has such a strong team dynamic. From communications to flight crew, we are like a family." – Stephen Newkirk, Flight Paramedic
"The safe team environment. We all take care of one another. We share daily duties and ensure we are all providing the best care to all our patients." – Darryl Chitwood, Flight Paramedic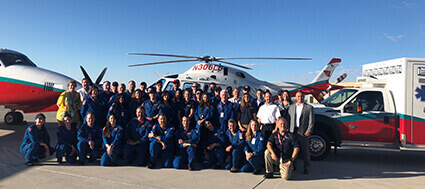 The Lifeguard team at UNM Hospital is dedicated to providing around the clock emergency medical transport for our patients. Whether you're a town over or across the state – we're there for you. Ready to make a real difference in health care? Check out open positions on our team!