Diversity, Equity & Inclusion
Created in October 2010, the UNMH Office of Diversity, Equity & Inclusion leads the effort to make sure that every UNMH patient receives the safest, most effective, most sensitive medical care possible, regardless of the patient's race, ethnicity, or any other group identity. We do this through data collection and analysis; community collaboration; cultural "competence" training, education and consulting; and process improvement.
Our vision is to become a nationally-recognized leader in diversity, equity and inclusion in U.S. healthcare; sought after for our innovation, creativity, significant results, and expertise, particularly regarding the populations we serve.
Identifying and addressing any health disparities in the care patients receive at UNM Hospitals is the first, and principal, goal of the DEI initiative. Health disparities are "racial or ethnic differences in the quality of healthcare that are not due to access-related factors or clinical needs, preferences, and appropriateness of intervention." (Unequal Treatment, Institute of Medicine (IOM), 2003).
"UNM Hospitals is proud to have an Office of Diversity, Equity and Inclusion, and we completely support sustained efforts at ensuring equity in the delivery of healthcare. Disparities are multi-factorial, and we must be prepared to address them in the overall system, in our processes, and in the care given by our healthcare professionals. The Office of DEI will ensure that we reduce any identified disparities, and improve the care we provide for an increasingly diverse patient population," said Steve McKernan, CEO UNM Hospitals.
Five bodies guide and implement DEI:
The executive-level Diversity, Equity & Inclusion (DEI) Steering Committee focuses on governance, leadership and systems

The "4 C's" task forces:

Compliance, active since November 2009: data collection and analysis, and compliance with national standards

Community, active since July 2010: mutually beneficial community engagement and partnership

Competence: language access and services, and staff "cultural competence" training and development

Care: patient involvement, and creating a culturally and linguistically appropriate care model and processes
Turning health career dreams into reality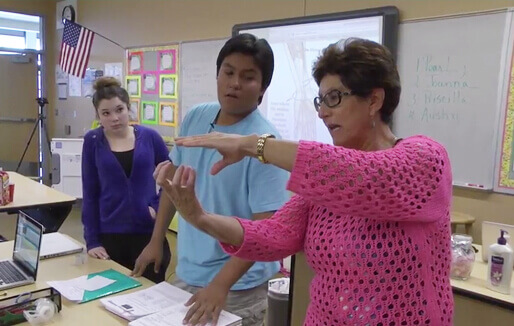 New Mexico students are getting exposure to careers in health, thanks to the UNM Health Sciences Center Dream Makers program. Middle and high school students in this innovative program meet twice a month at their schools to learn about careers in nursing, medicine, biotechnology and other fields.
View video >