Our Commitment to Diversity in the Workplace
When you choose to work in health care, you take an oath regarding the sanctity of all human life – and that a person's gender, race, religion, sexual orientation, or disability plays no role in the quality of care they receive. We pride ourselves in following the same principles when it comes to the people we hire.
At UNMH, our commitment to diversity in the workplace stems from the diverse population of the communities we serve across New Mexico. Through various employee resource programs and partnerships with numerous organizations, we're able to provide an inclusive work environment for all of our employees, no matter their background. Read more below about some of our most prominent diversity initiatives.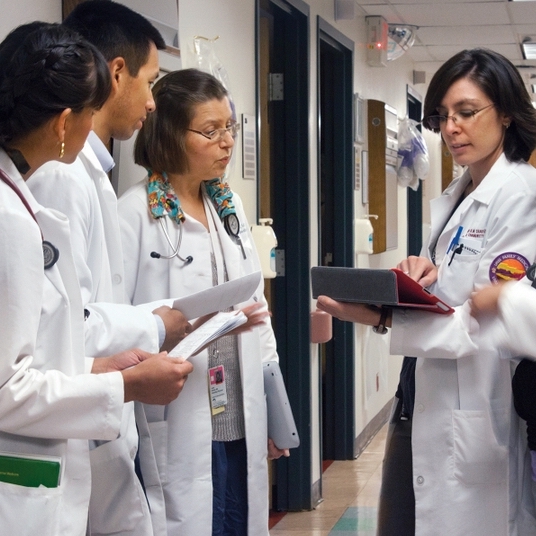 White Coats for Black and Indigenous Lives
In May 2020, after the brutal murder of George Floyd, White Coats for Black and Indigenous Lives came together to refocus on their commitment to creating an anti-racist climate in health care and the workplace. The group is comprised of students, residents, physicians and staff from UNM School of Nursing, School of Medicine, and UNM Hospitals.
In light of the current climate, White Coats for Black and Indigenous Lives has committed to the following objectives to continue to create an anti-racist and inclusive environment.
Mandatory anti-racism curricular for all academic programs that acknowledges and centers on histories of racism while examining other forms of systematic oppression.
All trainees and students engage in health equity proficiencies, such as education that prepares our workforce to dismantle systematic racism at all levels of medicine and patient care.
That UNM HSC and UNMH continue to recruit, hire, train, and cultivate a workforce that looks like New Mexico, and represents the diverse population we serve.

We will continue working toward creating

an infrastructure of equitable hiring practices to build, maintain and celebrate not only a faculty, but also a student body that reflects the population of New Mexico.
A commitment to anti-racist programming that requires a commensurate commitment to compensating established and qualified leaders in the fields of anti-oppressive praxis and pedagogy in medical education.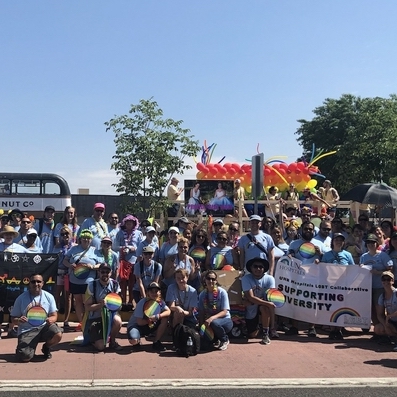 LGBTQ Collaborative
UNM Hospitals is the only hospital network in New Mexico to have achieved recognition annually since 2013. This year marks the seventh consecutive year we've been recognized by the Human Rights Campaign as an LGBTQ Healthcare Equality Leader.
To further show our commitment to the community, we formed the UNM Health System LGBTQ Collaborative, an employee resource group that was created to support our mission and focus on the health and well-being of the diverse communities we serve, and works on initiatives that create an inclusive environment that supports LGBTQ, employees, patients, families and friends.
Founded in 2011, UNM Hospitals partners with multiple organizations such as the UNM LGBTQ Resource Center and the Transgender Resource Center of New Mexico. The group conducts "Safe Zone" training several times throughout the year. These four-hour training courses educate staff and clinicians on how to be an ally to the community. It's also an open forum for LGBT employees to speak out about any concerns they may have.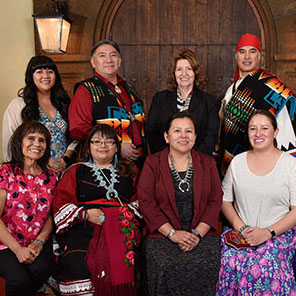 Navajo Working Group
New Mexico is the gateway to the 23 tribes, pueblos, and nations that have lived across the southwest for over 500 years. Their rich culture and history are what make us who we are today. Since opening our doors in 1954, we've always had a long-standing commitment to the Native American population in New Mexico.
We partner with UNMH faculty, UNM students, community groups and government agencies to develop sustainable solutions and pathways for improving the health and well-being of our indigenous population.
We also created our Navajo working group, which was formed to create a place where Native American employees can come together and discuss ways they can create a more inclusive environment for indigenous employees and patients. Click here to learn more about our commitment to our Indigenous population.
If you're looking for a work environment where differences are not only welcomed but encouraged – look no further. Explore career opportunities with us today and become a part of something great.