A Day in the Life of a Mental Health Tech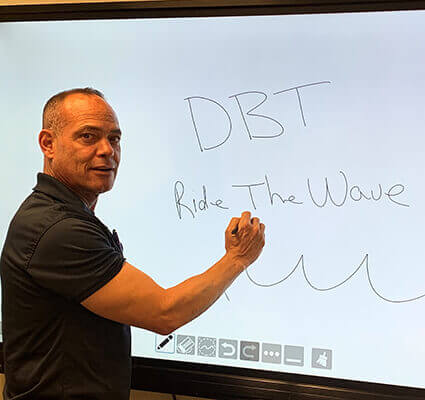 Mental health refers to the emotional, psychological and social well-being of a person, affecting millions of people every year. According to the National Alliance of Mental Health, one in five adults experience a mental illness each year, and one in six children ages 6-17 experience a mental health disorder each year. With these statistics growing every year, raising awareness around mental health and investing in mental health care is more important now than ever. At UNM Hospital, we're doing everything we can to help achieve this.
Meet Tim, one of our Mental Health Technicians at our Children's Psychiatric Center. Tim came to UNMH from the juvenile justice system with a passion for creating brighter futures. While there's no typical day as a Mental Health Tech, Tim shares things you can expect to experience at the Children's Psychiatric Center.
Why did you choose to become a Mental Health Tech at the CPC?
Working at the Children's Psychiatric Center has allowed me to be an active agent of change for children who may feel left behind in a complicated health care system. I chose to pursue this field because the children I work with need safety, support and the opportunity to see there is hope for the future.
What kind of patients do you treat?
I primarily work with patients who range from ages 9-14 years-old, but our center treats kids ages 5-17. We're an inpatient facility where kids can stay with us from a few days to a few months depending on their condition. The patients we treat suffer from a wide range of conditions such as behavioral and mental health issues, autism, learning disabilities, and kids who have been neglected or abused.
What is an average day like?
I usually work a standard eight-hour day. On an average day, the first thing I do when I get into work is check my emails and patient orders. We wake the kids up at 7:30, do their vitals and get them dressed. We do individual check-ins with kids to see how they're feeling and go over their goals for that day. We'll have breakfast and then go to our first Dialectical Behavior Therapy (DBT) small group. From there, the kids will have class with one of our onsite teachers, have some recess or time outside and have lunch. After lunch, the kids will work on an art project or we'll have some more DBT activities. Usually in the afternoon at around 2:30, the kids will have some down time in their rooms, which is where our staff shifts to the night crew.
What are some skills a Mental Health Tech possesses that are unique to other areas of health care?
They teach us a lot of stuff prior to even getting hired on as a Mental Health Tech. We teach our Mental Health Techs that patience is key when working with children who suffer from mental or behavioral health issues. There's also a big emphasis on de-escalation techniques and being very therapeutic in this role.
What kind of training is offered for Mental Health Technicians?
I'm actually one of the preceptors for new Mental Health Techs at UNMH. New techs go through an orientation that lasts usually about three-four weeks. I'll work directly with trainees in my cottage for about two weeks, and then they'll train with other preceptors in other cottages. We go over things like basic hospital policies, how to check orders, take vitals, run DBT groups and charting along with other specific techniques and skills that a Mental Health Tech would need to know.
What is the team structure like at the Children's Psychiatric Center?
We typically have three Mental Health Techs to a cottage depending on how many patients we have staying with us. Our ratio is 3-1, three patients for every tech, always making sure there is more than one staff member with our patients at all times. We also work very closely with nurses, physicians, teachers and social workers on a day-to-day basis.
What is your favorite aspect of your role?
Watching a kid smile and just be a kid. These are kids that have never felt normal, so to make them smile or laugh by playing with them or doing a magic trick – to know that in that moment they were just a kid is why I love what I do.
Join our team where just like Tim, you too can make a real difference in a child's life. Explore Mental Health Technician opportunities at UNMH today!