Life at UNMH
Luke, IT Department Manager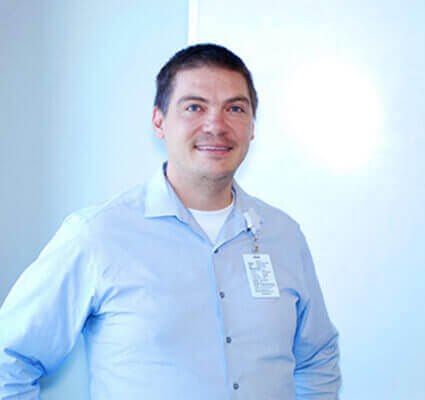 Our non-clinical support teams at University of New Mexico Hospitals play a vital role in the success of our organization. UNMH's Information Technology department is always working to create more efficient ways to provide top-notch care for our patients and families.
Read about IT Department Manager Luke's experiences and why he loves working on the Information Technology team at UNMH!
What brought you to University of New Mexico Hospitals?
I had a friend who suggested that I apply for the position. The flexibility that we have here in IT is really great.
What kind of work do you do at UNMH?
My group runs the intranet and the web development that helps run the business smoothly and helps our doctors and nurses provide care more efficiently to our patients.
What are you working on right now?
My group primarily does the Rubion Rails application. Right now, we're switching to a Rubion Rails platform with an Oracle database on Linux servers.
What do you look for in an employee in the IT department?
Certainly the skill set that we require is some sort of database experience. If you've worked on Rubion Rails, you've probably worked on JavaScript, HTML or CSS. We're looking for solid programmers who can build applications within a business realm.
What do you like about work in the IT department?
I think we have a lot of flexibility in determining what direction the team heads. I think it's a really great aspect, that you're given opportunities that other places certainly would not give you. If I have a great idea for an application, I could just build it and no one would tell me, "Don't do that."
Do you enjoy working in the health care realm?
I love it. I think when you're in health care, because the people around you chose this position, chose to serve, and so it's knowing at the end of the day there's something I did to make somebody's life better – that's why I enjoy working in health care.
Do you get any special perks or benefits?
We do relocation reimbursement plans, which allows us to attract the talent that we need. We have tuition reimbursement plans as well, which is huge. Also, access to free bus passes and shuttles all around campus for all employees. The paid time off, being able to sell back your unused hours is a plus.
Do you like working in Albuquerque?
I think New Mexico, in general, is a passion state. People fall in love with this place. I love it here; I can't leave New Mexico. I lived in Florida before this, and the mountains and the outdoor activities, you just can't get that if you live in Florida.
Click here to learn more about opportunities in IT and other non-clinical roles at UNM Hospitals!