Project Search Interns 2017
Our 4th Year!
Well, it's that time of year again. Our fourth year of Project SEARCH is in full swing! Our eight new interns are here and are already learning new skills in each of their departments. As always, we want to give a huge thank-you to all of the various departments at UNMH that continue to support Project SEARCH! Our goal this year, like in previous years, is to help our interns gain the skills they need to achieve competitive employment as well as independence in our communities.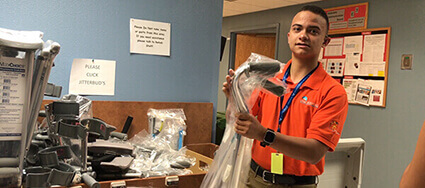 Project SEARCH Wants You!
There are plenty of ways you can get involved with Project SEARCH! Volunteer to be a guest speaker in one of our morning classes, or practice your interviewing skills with the interns. To find out more information or to find out how you or your department can get involved, please call (505) 872-6800, ext. 0.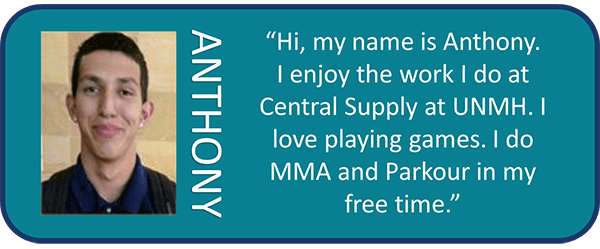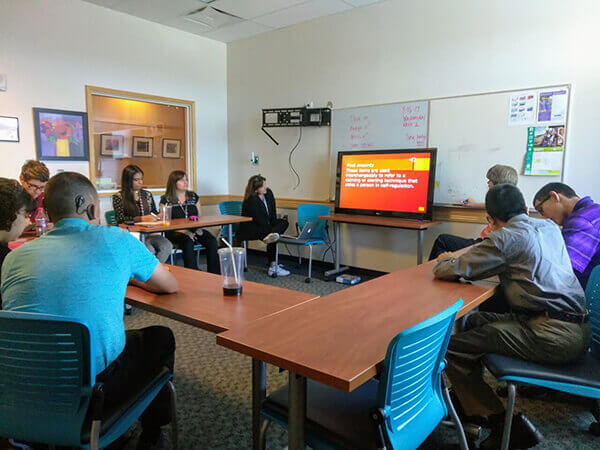 What are Project SEARCH's Goals?
Our goal here at Project SEARCH is to not just provide our interns with employment, but a future! We strive to teach the skills needed to thrive in today's competitive workforce. The interns will be at the hospital from 7:45 a.m. until 2:30 p.m., following the APS School calendar.
We have class time from 7:45 to 8:45 a.m. every morning when the APS instructor works with the students on skills pertaining to both the workplace and independent living. This time is also used to go over interview skills and workplace etiquette. During class time, we also enjoy having guest speakers come in and share real-world experiences with the interns. Past guest speakers include current UNMH employees and interns (see picture to the right,) as well as people from the community.
After class, at 8:45, the interns leave to be at their respective internships by 9 a.m. Some of our students even ride the shuttle to offsite locations! While at their internships, they are expected to work closely with staff and mentors to gain skills, as well as be an integral part of the department. We have weekly or bi-weekly meetings to check on progress and develop strategies to overcome challenges and celebrate successes.
Over the course of the year, our interns will have completed three separate internships in various departments throughout the hospital. By the end of the internship, the interns should have the skills they need to obtain and hold a competitive job.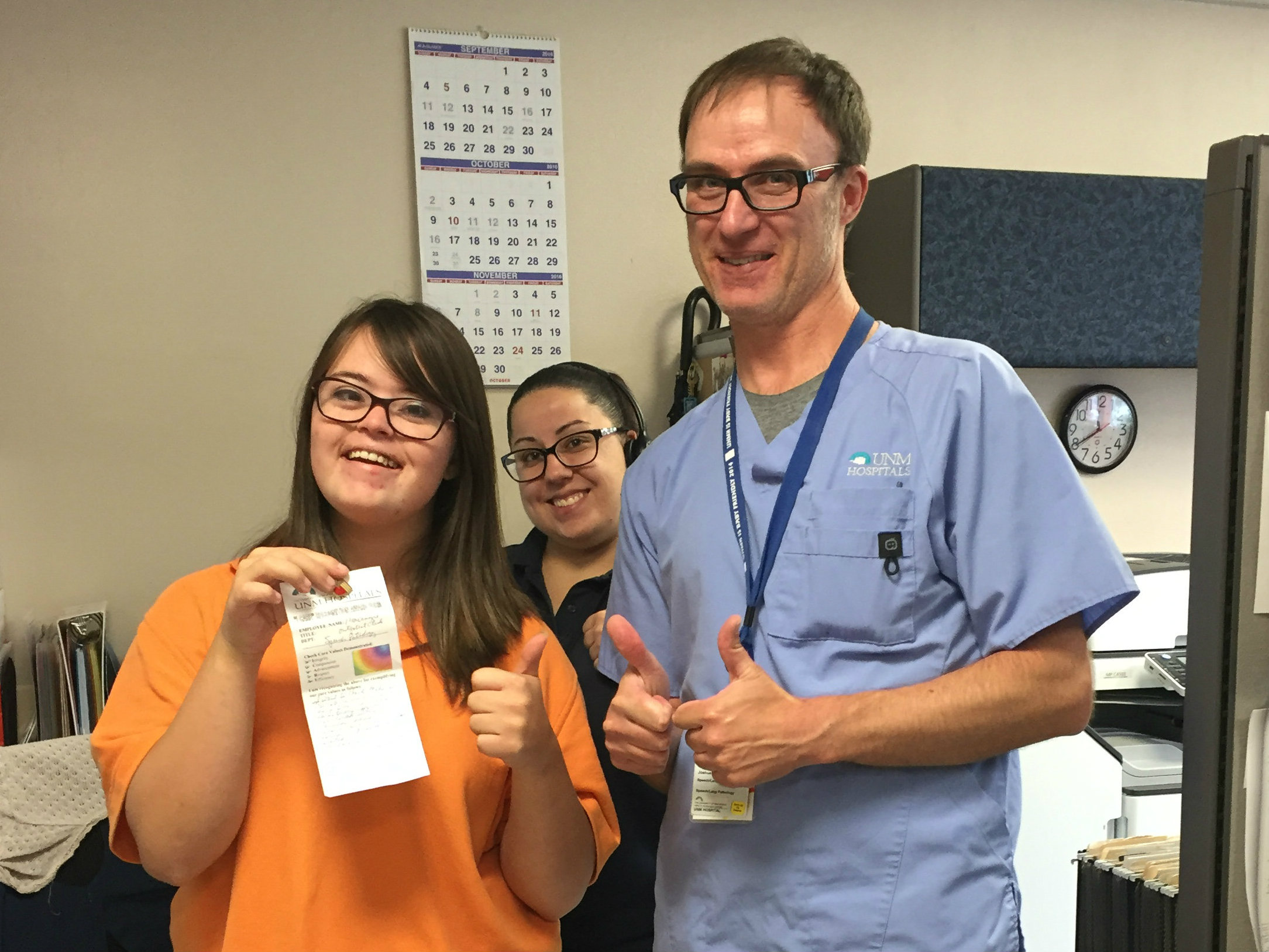 A Part of your Team
It is part of the Project SEARCH philosophy that our interns feel that they are an important part of the departments they work in. We strive to make sure that both the interns and the employees in the departments feel encouraged and excited about this internship!
Speech pathology intern Mackenzie is being presented with an iCare award and pin by her co-worker Joshua and her mentor Antonia. The patient that Mackenzie helped was very appreciative of the service that she provided! She will wear the pin as a badge of honor, knowing that she was able to make a difference in helping a patient have a great experience at UNM Hospital.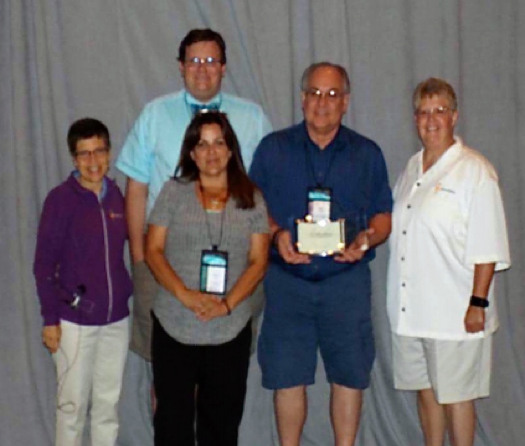 Project SEARCH, UNMH Brings Home Award
At the 2016 Annual Conference in Orlando, Florida, 183 program sites from 37 states and three countries were recognized for achieving 70% to 100% employment for their 2015 program graduates. UNMH Project SEARCH was presented with the 90-99% employment outcomes award for the 2015 graduates of that year's program. "UNMH is proud to receive this award and thanks all of its Project SEARCH partners that made it happen," said Phil Pelleriti, UNMH Recruiting Manager. The goal of Project SEARCH's career-readiness education and training program is to increase opportunities for competitive employment – meaning employment in an integrated setting, year-round work, 16 hours/week or more, and prevailing wage.
Pictured at right, UNMH Recruiting Manager Phil Pelleriti accepts the Employment Outcome Award for 2015 UNMH Project SEARCH graduates.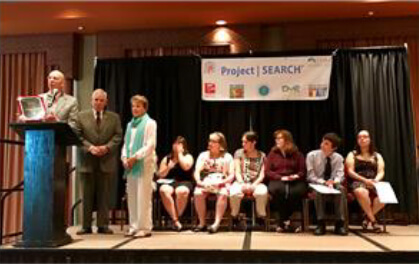 New Name for Project SEARCH @ UNMH
The Nene and Jamie Koch Project SEARCH Training Program at UNM Hospital
Jamie Koch is the driving force that brought Project SEARCH to New Mexico. His daughter, Amy Koch, participated in Project SEARCH in Texas, and saw through her experiences how beneficial it was for her. Being a Regent for UNMH, Jamie worked diligently to bring Project SEARCH to New Mexico. Jamie and Nene were honored at last year's graduation, where it was announced that the name of the program was being changed to The Nene and Jamie Koch Project SEARCH Training Program at UNM Hospital. We are so appreciative of Jamie and Nene for bringing this program to New Mexico and for the lives it has changed and will change in the future.