Nurse Residency Program
The Residency Program at UNM Hospitals is designed to close the experience gap between nursing school and clinical practice at the bedside through mentorship and ongoing education. New graduate nurses transition from advanced beginner to competent professional nurses. All new grads hired into UNMH are Nurse Residents, regardless of the department which actually hires them. Acceptance into the RN Residency Program is contingent upon the following criteria:
you are a graduate of an accredited nursing program and have not worked as an RN;

you hold an RN license or permit to practice as a graduate nurse in New Mexico;

you are willing to work full-time as a fully participating member of the clinical team; and

you are willing to attend all of the general and specialized classes and other learning experiences.
Throughout the first year as a nurse the new graduate will receive support and services from the Nurse Residency Program Director, masters-prepared Nurse Educators, and clinically competent preceptors. The Nurse Residency Program is committed to improving the new graduate nurse's bedside clinical skills and promoting the development of confident nursing staff. The goal of the program is to improve the quality of care, improve patient and employee satisfaction, and enable the new graduate to create a commitment to the hospital and the nursing profession. All Nurse Residents are expected to take the NCLEX exam within 60 days of hire.
Nurse Residents are expected to complete one evidence-based project during their first year. This project will include literature search/review and presentation of the project findings at a staff meeting, poster presentation or journal club session. Final projects may also be displayed during Nurses Week or at other hospital events. Surveys are completed at hire, at 6 months and at 12 months. Nurse Residency positions are typically posted four times per year for positions beginning in January, April, June, and September.
Preparing for the Worst – UNMH Emergency Department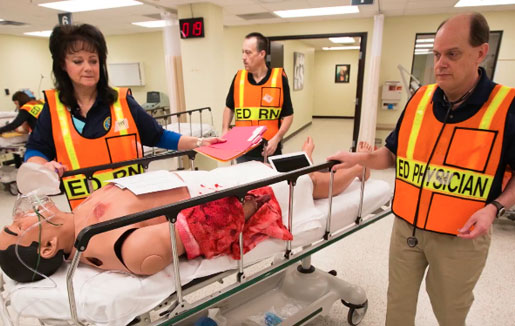 New Mexico is now better prepared for when a disaster hits, after more than 30 UNM and UNM Hospital emergency responders completed a week of advanced training at the Center for Domestic Preparedness (CDP) in Anniston, Alabama. The CDP is operated by the Department of Homeland Security's Federal Emergency Management Agency and is the only federally- chartered Weapons of Mass Destruction (WMD) training facility and fully equipped training hospital in the nation.
View video >