Life at UNMH
Erica Tidiane, RN Supervisor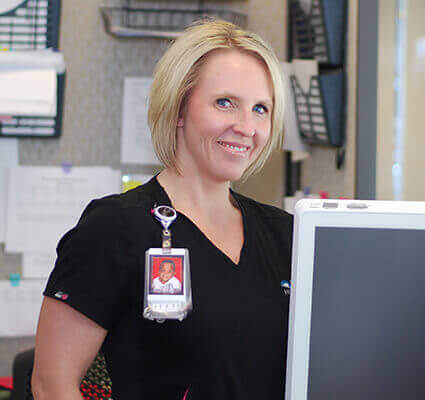 When you join the team at UNMH you will have access to leading technology, an unparalleled level of support that includes an impressive cultural focus on professional growth, and innovative policies and procedures designed to empower you as an employee. But don't take our word for it- hear more about UNMH from one of our own.
Erica Tidiane currently works as an RN Supervisor in the Neuroscience ICU, and she's been in her current role at UNMH for a little over a year. Some of her previous experience was working in Nebraska at a private hospital, but she missed the university setting so she decided to make a change. Find out more about why Erica chose University of New Mexico Hospital.
What does a typical day look like for you?
Typical day, it's almost always busy. I work the night shift, so sometimes the flow is a little bit different, but as an RN Supervisor, it's a lot of bed management, bringing patients in and out, helping with the flow of that, assisting nurses with admits. If we get patients that require a lot of monitoring equipment and such I help with procedures and help with transporting patients.
What is the culture like at UNMH?
Well, you know, I can only speak specifically with night shift, but we have amazing teamwork- we are always working together. Everyone has each other's backs, sometimes you have patients who need extra attention and everyone on the team steps up to help without even having to be asked.
What kind of additional resources does UNMH offer?
This hospital offers the most education opportunities compared any other hospital I've worked at. Whether you want to hone your nursing skills or improve bedside they have resources for that. And now that I'm in more of a leadership role there are options to take leadership classes to help with things like conflict management, which have been very beneficial to me since I started working here.
How is the work flexibility at UNMH?
It's reasonable. There is no forced overtime, most of us are full time, most of us work three shifts a week. Also, there's no on-call, which is one of the things that drew me to UNMH from the other hospitals that I've worked at.
Anything else you'd like to add about the team at UNMH?
I would say every adult I see here at UNMH has an unspoken commitment to excellence. But what we do here in the neuro ICU, our attention to detail and our quickness to respond when something looks like it might be going south, we're just on it. We're very proactive in caring for our patients. I think that's one of those things that sets us apart from any other hospital.
Are you interested in a dynamic career that gives you the opportunity to learn something new every day and make a difference in the world? Explore our careers.